The rainy cool days aren't getting us any sympathy from home.  Fort McRee was great for a night, but when the winds subsided, we decided to pull anchor and see if we can get a few more miles behind us.
Election night in Pensacola
We may have been spoiled by the months of great weather, but when the rain started falling again, Colleen was on the phone looking for a marina rather than an anchorage.   A call to Sandine Marina we were told they have slips available; so it was a short day on the water.   Just 12 miles , but we are making progress.  The dock master met us in the rain, helped secure our lines, connected the power cord and came out with the portable pump out equipment.
Quickly settled in; and ready to find a place to listen to election coverage.
We walked the board walk –a  few places were open,  most were either deserted or closed.
This is another example of "off season" tourism.
Deserted.
Dave remarked that a new version of the VW bus is now on the market- nostalgia?
It was election night, so we went to a bar/ restaurant and watched the early results- walked next door to Shaggy's.
Woke up to more election news- actually turned the TV on in our boat for the first time in months;  we left the marina at 8:45.   Destination Fort Walton.
It is still overcast, with a light rain; but started to clear up at noon.
We are officially in Florida!   It is November 9th– we started at Mackinaw City 5 months ago on June 9; and left Chicago on September 9; just 2 months ago.
FORT WALTON FREE CITY DOCK
Another opportunity for a free night is at Fort Walton just 34 miles ahead.  The cloudy day means no sun in our eyes as we got an early start; and are heading due east.
The city dock has room for several boats.   We called ahead to let them know we would be staying the night; and were told they would alert the local police that we had permission to stay in the slips for the night.  That either gives a sense of security; or a light bulb goes off " is this a safe harbor?".
Moon Shadow fit nicely in the first slip.  Enterprise tried nosing into the next slip and found bottom pretty quickly.  It looked shallow and they confirmed!    They found the depth better on the opposite side of the dock and tied up for the night.
We had the park to ourselves once the locals called it a night for fishing off the pier.    We walked to town to have dinner, then enjoyed an early night.
Thanks to Fort Walton for a pleasant night and its free!
CHOCTAWATCHEE BAY, GRAND CANYON, AND WEST BAY
A night at Fort Walton set us up nicely for crossing the next big waters- Choctawhatchee Bay is about 30 miles across followed by "the Grand Canyon" a manmade canal of about 19 miles.
Here is a visual to  see about where we are on the southern coast: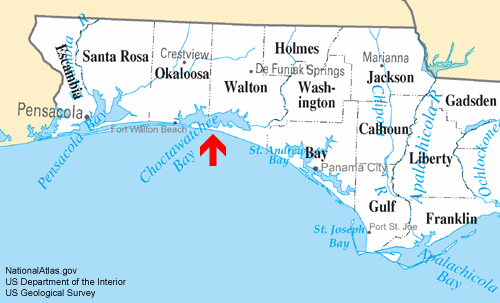 The sky is clear, its 52 degrees at 6:15 am and the winds are NE at 20 mph.
At 7:30 the winds were still blowing at 18 mph- not the best conditions but they were predicted to subside in the afternoon.    By noon we were already passing through "the canyon".
This was a fairly long day of 67 miles; on the water 8 hours.   The days are so short, even though we were at Panama City by 2:15, it wasn't long before the sun was setting.
It is still very difficult to photograph a dolphin- don't miss it in the upper left corner!
PANAMA CITY
We walked to town to a place recommended by the dock master called "The Place".  He prefaced it by saying " you won't be impressed by the décor, but the food is great".
He was spot on about the décor- run down and dated.   We renewed our vow to eat on the boat and save for a special dinner out!   It was good company though, as Kurt and Patti were along to check out the fine dining.
CRAB POTS
Got a glimpse of a crab pot- we expect to be dodging the crabpot balls that float on the water.  Now we know what they are anchored to – the pot sits at the bottom with a anchor rope to the surface.
Did I mention we are soon entering Eastern Time?    We will lose another hour of daylight!!